Algol (C64) Commodore 64
A downloadable game for Windows, macOS, Linux, and Android
Algol - a science-fiction shoot'em up adventure for the Commodore 64 / C64
Fine-tuned, challenging full science-fiction adventure and homage to several great C64 classics. You need to think and take advantage of game mechanics and manueverabilty or you'll get slapped and not be tickled...
Algol contains some classic homages, remade and improved sprites as well as tons of different levels and enemies, including many original enemies. Some of the are obvious sprite tributes, newly created and tweaked, to the classic Slap 'n' Tickle, and original Shoot 'Em Up Construction Kit games. A great full game, with 10 levels with different enemies unique to this game, including the helmeted snail (tough to beat of course) and the Scimitar Guardsman (an obscure but original tribute to another C64 game character!). Those gamers who have enjoyed a few s.e.u.c.k. c64 games and who also actually play games more the 5 minutes with the skill mental and joystick skills to pass a first level, will have a lot to explore and a challenge to behold!
Control the Orbis aka "The Harvester of Doom," from the Soros System. Invade, subjugate and destroy the planet of Eden.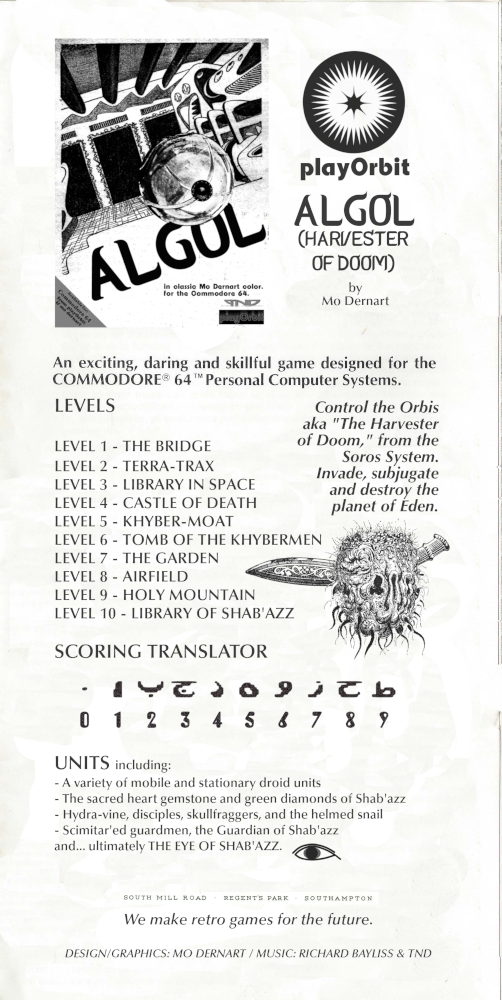 Very cool DEAD-ON summary of this game,
"Nice shooter-crawler with some bizarre style and characters throughout. Also it has some platform-native game references from 80s games, including a few different characters that arrive progressively through different levels. The variety of levels in ever-changing and 10 in number (see the reference card for hint and typical Mo Dernart pop-culture references). Old-school Commodore gamers may recognize some amusing homages in this regard and allusion to a few different games throughout, from scimitar swordmen (Alcazar) to a couple from the game engine's own classic original demo game as well as some original characters like helmeted snails. It's challenging but very beatable with some practice, which will include a light amount of crawling or running conversely. There are ways to avoid many deadly enemies that lends a Mo Dernart trademark puzzle element on certain screens or suitable for those ready with their gun aka laser. The adventure aspect is abstract but really likely about the journey through vintage retro 80s computer or even console gaming." (lazyjones)

* Requires any free C64 emulator, such as the free, cross-platform VICE emultator available on any OS and very easy to auto-load game by selecting the file or a Commodore 64.

Purchase
In order to download this game you must purchase it at or above the minimum price of $1.99 USD. You will get access to the following files:
Algol_playorbit_2018_cover.png
1 MB
Algol_playorbit_2018_refcard.png
511 kB